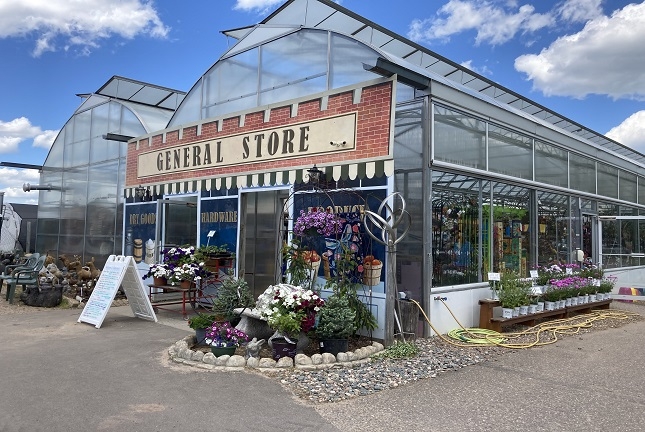 THE AREA'S LARGEST RETAIL GARDEN CENTER!
We are a family owned and operated greenhouse and nursery. We grow annual bedding plants, vegetable starts and herbs, hanging baskets, ornamental perennials and trees and shrubs in our village themed greenhouses. We also have a specialized focus on regional native plants. We carry seeds, soils, mulches and other gardening products as well as unique decorative garden items. We offer many events and classes throughout the year. Stop out and see us soon!
CURRENT HOURS:
MONDAY-FRIDAY 8:00AM-7:00PM
SATURDAY 8:00AM-5:00PM
SUNDAY 10:00AM-4:00PM
Open Memorial Day 9:00am-4:00pm
Planting Classes Now Available through June
May 1st-31st: May Token Promotion
May 27th-29th: Memorial Day Weekend
June 17th: Herb Fest & Token Redemption Starts
---
BULK MULCH AND SOIL OPTIONS FOR 2023
---
Planting Classes
Call Our Office to Sign Up!
---
---
SCOTTISH HIGHLAND GRASSFED BEEF PRICES
Currently Av
ailable at Hanson's!
Ground Beef - $5.99/lb
Oxtail - $7.99/lb
Heart/Liver/Tongue - $3.99/lb
Stew Meat - $6.99/lb
Tenderloin (Whole) - $19.99/lb
Sirloin/Sirloin Tip - $11.99/lb
Ribeye Steak - $14.99/lb
New York Strip - $14.99/lb
Roasts (Arm/Chuck/Rump) - $8.99/lb
---
We sell gift certificates all year long! Either call our office at 715-365-2929 or purchase online 24/7. Gift certificates can be mailed right to you or the recipient. The perfect gift for the gardener in your life.