We are located one mile past Nicolet College on Highway G in Rhinelander, WI. You can see our greenhouses before our entrance road, which is just around the corner past Lassig Road to the left.
Generally, we are open to the public for retail sales from mid-March to October, Monday through Saturday from 8am-5pm, with extended hours in the spring (check our website or call for updated hours). November through January is about the only time that you will find us "closed to the public." We spend this time improving greenhouse operations and planning for the next spring. By January we start producing and cultivating all of the beautiful plants we sell in the spring.
Yes, dogs are allowed as long as they are leashed, properly supervised and picked up after. We have waste bags and dog treats in our office building.
You are closed for the season, can I still purchase something?
If you need assistance or a product from us in the off season, we will try our best to accommodate. You can reach us in the off season by calling the office at 715-365-2929 and leaving a message if we don't answer or send an e-mail to info@hansonsgardenvillage.com. If you ever come to Hanson's and you can't find anyone, honk your horn, we are probably in the back!
Are you family owned and operated?
Yes, we have been family owned and operated since 1985.
We care about what we grow and how we grow it. That means we take care with what we spray on our plants, as well as other practices that affect our environment.
No, we do not use neonicotinoids to spray our plants. We have decided to not use these chemicals due to their recent criticisms.
If you are not 100% satisfied with your purchase of supplies or gardenware, you can return your item within 30 days for a full refund. If your return is past 30 days, we will be more than happy to issue a store credit for the value of the item.
Do you take credit/debit cards or checks?
Yes we accept Master Card, Visa, American Express and Discover cards. We will accept checks; when accompanied by a driver's license, phone number and address. Checks should be written for the exact amount only. NSF checks will be assessed a $30.00 return fee.
What do you sell?
In terms of plants we sell annuals, vegetables, hanging baskets and planters, perennials, trees and shrubs in both potted and bare root, native plants for gardens and restoration efforts, water garden plants (primarily natives), fall mums, kale, asters, & pumpkins. We also stock, besides the gardening basics, many interesting, unusual, and "artsy" garden items. You can also find landscaping necessities like bulk and bagged mulches, composts, and topsoil, lawn edging and weed barrier, erosion blankets, grass and wildflower seed, and much, much more. We are the Northwoods source for Envirolok bags, the environmental alternative to retaining walls. We post our perennial, native and bare root lists, among others, under our Plants/Product List tab in the early spring.
Do you sell wholesale or give landscaper discounts?
We are phasing out our annual wholesale business, but we are continuing to wholesale ornamental and native perennials. We do work with customers on a discounted level, if you meet requirements. Please call the office for more details.
I am interested in a different color product than the one carried in your store. Can you special order it for me?
Yes, we will try our best to get in any item requested by our customers. You can work with us to select the item you want from our many suppliers. Pre-payment is typically required for special orders.
I need to purchase a gift certificate, but I live out of town. Can you help?
We now offer online gift certificate purchases! Please see our
Online Store
for purchasing information. You can also purchase gift certificates over the phone and have it mailed to either you or the recipient. We can do this in the off season as well.
Do you offer design services?
Yes, we are glad to help customers select the right plants for small projects like perennial beds or potted window boxes, planters, etc. Bring in a photo(s) and information on sun exposure and soil type and we can help you in store. If you require more attention for a larger project we ask that you call ahead and make an appointment. For these projects, certain consultation fees and site visit fees may apply. Call for more information or see our
Landscape & Garden Design page.
Do you plant up customer's hanging baskets and pots?
Yes, we do take on our customer's planters to get them ready early in our greenhouses. Prices will vary based on container. We can also grow specially for weddings or other events. For specially grown crops, we prefer to have the order confirmed early in the season (January-February) so we can get the plants looking beautiful in time for the event.
Can we come out and plant our containers at the garden center?
Yes! We have a "You Pot" Station in our barn. Leave the mess here! Soils and other additives can be purchased per scoop.
Do you deliver?
Yes.
2022 Delivery Charges:
In Town & up to 4 miles $25.00 ($75.00 minimum order)
4-10 miles $35.00 ($250.00 minimum order)
11-25 miles $60.00 ($600.00 minimum order)
26-50 miles $100.00 ($750.00 minimum order)
51-79 miles $150.00 ($1000.00 minimum order)
Do you supply plants for funerals or weddings?
We do not sell cut flowers, but it is common for us to deliver potted plants and also trees and shrubs to funeral homes in Rhinelander when we have growing plants available (roughly April-October). We also can rent arbors, ferns, flowering annuals, perennials and shrubs for weddings (depending on what is available and the time of year). We can also specially grow plants for guest wedding favors. Call for more information.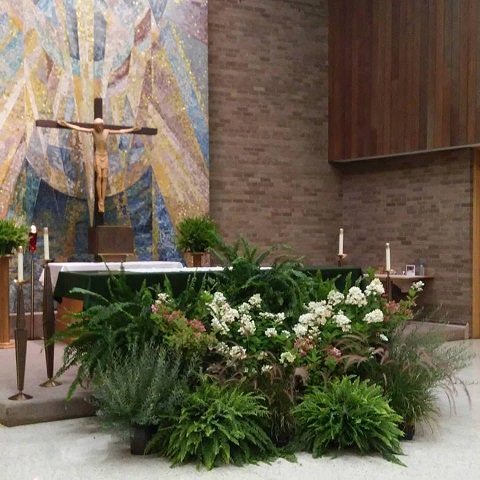 Do you donate to organizations or fundraisers?
We are always willing to help out our local community and try to give in any way we can. If you are interested in a donation from us, please call or stop out and discuss with us how we can help your organization.
Are you hiring?
Our hiring window is mainly from January to March. This is when our operations start back up and we can hire based off returning past employees. You can call for more information, stop out to pick up an application or
print our PDF application from the website
.
Most of our work is part time to full time seasonal from April to July and the main work is customer service/retail clerking on busy weekends.
How can we contact you?
You can call our office at 715-365-2929 or e-mail us at info@hansonsgardenvillage.com
You can also follow us on Facebook and Instagram!
Where do your plants come from?
WE GROW OUR OWN! Our annual plants are either started from seeds, cuttings or plugs that we purchase and nurture in our own greenhouse. Perennial plants are started from purchased plugs or bare root or they are started from cuttings or divided from our existing stock. Our native plant department grows most everything from seed in the spring. We attempt to keep our native plants of a local eco-type. Our bare root trees and shrubs are brought in from regionally close nurseries and whatever isn't sold from our bare root spring sale is potted up for next year's sales. We can also special order any trees or shrubs that we do not have in stock. These come from a local source.
Can you special order plants?
We usually need advanced notice for any annual or perennial you would like requested, since we grow our own. We order our babies months before we get them growing in our greenhouses, so if you would like to see a certain plant next year tell us in the spring! We can usually get special trees and shrubs in within a few weeks of ordering.
What is your plant guarantee?
Unfortunately, we cannot guarantee plant survivability over the winter, due to extremely fluctuating winter and spring weather conditions. However, with proven plant care, we will guarantee a plant through the growing season. If the plant does not survive, we will replace it with an equal or similar item. The plant must be brought in for proof.
What zone are we?
We are zone 4a in USDA Hardiness. We carry zone 3 and 4 plants, to support our customer's success in our local climate, but we do offer a limited number of new plants whose cold hardiness in our area is uncertain. Also, we grow a number of "temperennials" – plants that are technically perennials, but not normally hardy here. Some of our customers have successfully over wintered plants like these, by utilizing various over-wintering strategies.
What does "Hanson's Hardy" mean?
These are tried and true hardy perennial plants that we feel confident will winter over successfully. We have these plants flagged in our perennial houses with yellow "Hanson's Hardy" flags.
Do you identify insects or plant issues?
We will try our best to help you figure out whatever is going on with your plant. Please bring in a sample for us to examine and we will work with you to solve the issues. Our local UW-Extension office also exists to help diagnose plant issues.